I love pasta in any shape or form, but my go to recipe has always been spaghetti because it's so easy to make. I usually just get store bought sauce and add ground beef or a little sugar and sour cream, but sometimes I am feeling overzealous and will make my sauce from scratch. Sometimes it just feels good to put in the effort of making something entirely from scratch all by your lonesome!:) I tried this recipe and it was easy and yummy. Hope you can try it sometime.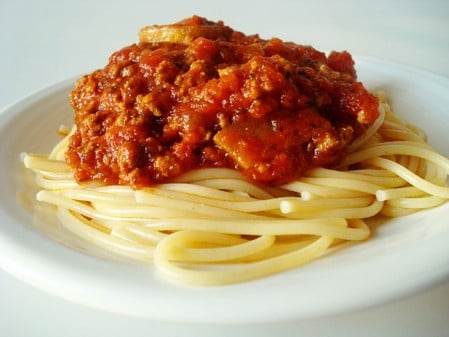 Homemade Spaghetti Sauce
Ingredients
3 Tbsp. olive oil
2 c. onion, chopped and divided
1 red pepper, coarsely chopped
2 lbs. hamburger (at least 90% lean)
5 cloves garlic, finely chopped
1 12 oz. can tomato paste
1 tsp. kosher salt
1 tsp. black pepper
3 tsp. dried oregano
3 tsp. dried basil
1 1/2 teaspoons dried thyme
2 14-oz. can Italian-style diced tomatoes
2 28-oz. can crushed tomatoes
1 carton fresh mushrooms (optional)
1 1/2 cups beef stock or beef broth
2 Tbsp. brown sugar
1-2 Tbsp. sugar (optional, I like my sauce sweet)
2 bay leaves
2 Tbsp. balsamic vinegar
Heat olive oil over medium high heat. Add 1/2 of the onions and saute until translucent and slightly browned. Add garlic and stir constantly for 1 minute. Add beef and cook until no red is showing. Drain beef slightly. Blend up the remaining onions and red pepper in a blender or food processor until mostly smooth. Add mixture to the garlic, onions and beef and stir to combine, cooking for another minute. Add tomato paste and spices and cook for 1 minute, stirring until combined. Add tomatoes, beef broth and sugar (and mushrooms, if using). Stir until combined and add the bay leaves.
Bring to a boil and then reduce to low and simmer for 1 hour, stirring occasionally. Fifteen minutes before serving, stir in the balsamic vinegar.
Notes:
This recipe makes a ton of sauce. I had to use two pots, but I had plenty left over to freeze for later use. All in a days work, right?
Recipe and photo from
Mel's Kitchen Cafe