This punch takes a little bit of planning so you have enough to freeze it, but it is so simple to make and very delicious. I found it on all recipes 6 years ago when I started to take over Christmas and Thanksgiving dinners for the whole family. I've tried other punch recipes since then, but this one still remains everyone's favorite. I still make this even if we are not having a big party and we have plenty to drink all week!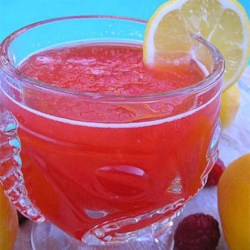 Lucious Slush Punch
Serves 50
Ingredients:
2 1/2 cups white sugar
6 cups water
2 (3 ounce) packages strawberry
flavored Jell-O® mix
1 (46 fluid ounce) can pineapple juice
2/3 cup lemon juice
1 quart orange juice
2 (2 liter) bottles lemon-lime flavored
carbonated beverage
Bring the sugar, water, and strawberry flavored gelatin to a boil in a large saucepan; boil for 3 minutes. Stir in the pineapple juice, lemon juice, and orange juice. Divide mixture into 2 separate containers and freeze.
Combine the contents of 1 container with 1 bottle of the lemon-lime flavored carbonated beverage in a punch bowl; stir until slushy. Repeat with remaining portions as needed.