My favorite combo for a shake has to be chocolate banana. It satisfies my sweet tooth and the chocolate and banana work together so it's not too much of either. The whipped topping on top is just a little extra! Now making a shake isn't rocket science, but I decided to post a recipe just as a guideline. Feel free to adjust the ingredients to your taste.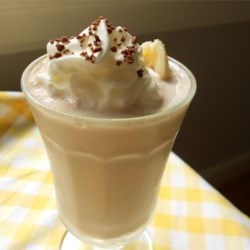 Chocolate Banana Shake
Serves 2
Ingredients:
1 banana, sliced
6 Tbsp. Nesquik powder
1 c. milk
2 c. vanilla ice cream
Place the banana slices, powdered drink mix, milk, and vanilla ice cream into a blender, and blend until smooth and creamy. Pour into large glasses. Top with whipped cream and serve.